National League Play-off: Southampton FC battle Wolverhampton Wanderers for promotion
Southampton FC were promoted to the Women's Championship after Sophia Pharoah's goal gave them a 1-0 victory over 10-player Wolves at Edgeley Park.
The two teams won their respective National League titles and were competing in a play-off final.
Pharoah rounded the keeper and slotted in the winner midway through the first half, before Wolves defender Kelly Darby was sent off.
It is the first time Southampton FC have reached the second tier.
Marieanne Spacey-Cale's side came close on several occasions in Stockport and started on the front foot when Pharoah set up youngster Lucia Kendall within seven minutes, but she was denied from close range by goalkeeper Shan Turner.
Northern Ireland defender Laura Rafferty put in a good block at the other end to stop Maz Gauntlett, but Southampton FC could have made it 2-0 before half-time when Kendall's free-kick bounced off the post and the rebound was poked over the bar by Alice Griffiths.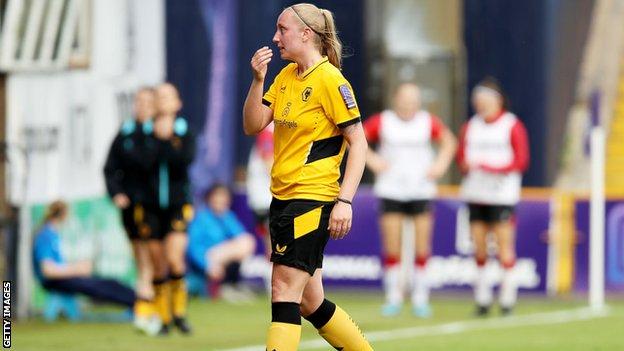 Wolves, whose manager Dan McNamara was absent because he is away on active duty with the RAF, were dealt a further blow when Darby was beaten by Alisha Ware near the touchline and she kicked out in reaction to pick up a red card.
Despite going down to 10 players, Wolves came out strongly in the second half and carried a threat through Amber Hughes and Gauntlett but were unable to grab an equaliser despite Tammi George firing inches over the bar in stoppage time.
Southampton FC, founded in 2017, secured the National League Southern Premier Division title in April, losing only one of 26 games during their regular season.
Wolves won the Women's National League Northern Premier Division in convincing fashion, also losing only one game, but will remain in the third tier.